Last Updated on 10th December 2021
What is it?
Facebook have officially rolled out their gaming platform as a brand new App. Facebook Gaming is a separate App to Facebook and is designed for users to stream their gameplay, whilst also watching their favourite streamers play the most popular video games. Although it is a seperate App, it can be opened from the Facebook App.
Video Game Live Streaming
is where people broadcast themselves playing games to a live audience online. It is commonly referred to as 'streaming' and those who participate are known as 'livestreamers'. 'Livestreamers' can make large sums of money by playing the most popular games to audiences of sometimes hundreds of thousands.
Age Suitability
You will need a Facebook Account to use Facebook Gaming, and Facebook's Terms and conditions state that you must be at least 13 years old to have an account.
Google's Play Store requires users to be 13 and Apple's App Store requires users to be 14 to download apps.
There is no consistency with regards to the suitable age to use Facebook Gaming, so it's important to understand the risks so you can make an informed decision on whether or not you will allow children or young people to use the platform.
Facebook Gaming's Core Functions
Currently, only Android users can 'Go Live' to broadcast themselves playing their favourite video games.

The platform allows users to select which games they like and these choices are then used to suggest updates, content and livestreamers for users.

Users can watch their friends or famous livestreamers play the latest games such as Grand Theft Auto V and Call of Duty.

Streamers can comment and interact with other viewers during livestreams.
REMEMBER:
Facebook Gaming has in-app purchasing. If users are a fan of certain streamers, they can choose to 'tip' them by sending a Facebook Gaming Star. These can be purchased from the platform using real money.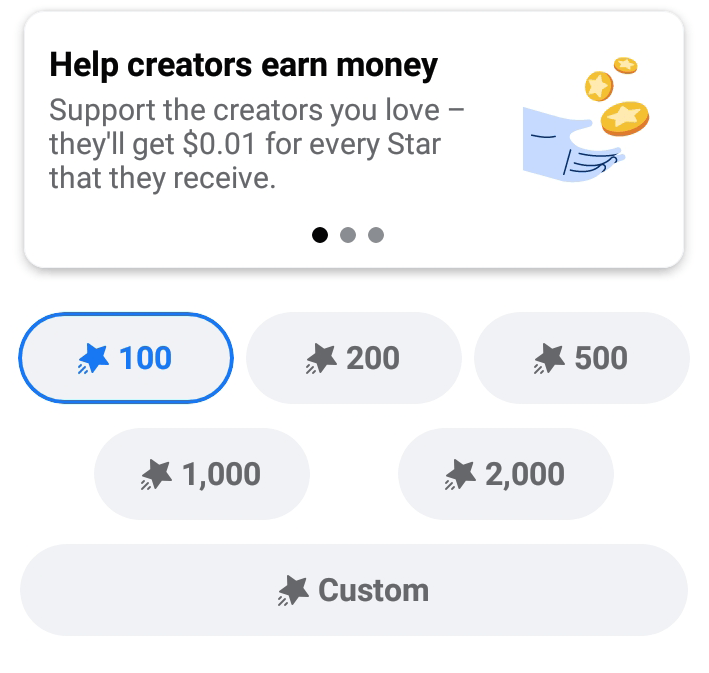 What are the Risks?
Sometimes, children and young people can give away more information than they intend to via livestreaming games. Interactions between streamers and users commenting are live, which allows little time to consider a response. Children and young people might answer seemingly innocent questions such as "what school do you go to" or "what football club do you attend". This information could be used by offenders to determine a young person's location. 
Facebook Gaming has no age verification system, which means that children and young people may be exposed to violent or sexualised gameplay. Children can watch streamers playing games with a PEGI rating of 18+ and will likely be exposed to comment sections which are regularly filled with inappropriate language. There are moderators, but as Facebook Gaming is all live, the risk of exposure to inappropriate content is high. 
Streaming is monetised through the use of 'Stars'. These are similar to Twitch's 'Bits' which are essentially a way of tipping streamers to show appreciation. 'Stars' cost real money and are purchased via the platform. There is legitimate concern that children or young people could spend large sums of money.
With Stars, there is also the concern that children or young people who stream might do things outside their normal behaviour in order to gain more stars. Each star received will give a streamer 0.01 USD, but can be purchased in packs of thousands.
Top Tips for Staying Safe on Facebook Gaming
Talk to children and young people in your care about Livestreaming video games. Ensure they know how to stream safely, and know to never give away any personal information.

We advise only ever streaming to friends, but we are also aware that publicly streaming has become commonplace among children and young people.

Due to inappropriate content and comments sections, ensure that children and young people in your care know that they can always talk to you or another trusted adult if they ever see something on Facebook Gaming which makes them upset, nervous or worried.

Buying stars is very easy to do. Make sure none of your bank cards are linked to any devices which children or young people in your care use.

If a child or young person in your care wants to buy Stars, it is best to do so through a weekly or monthly allowance. 

Remember that a young person may watch live streams of games that you have forbidden them from playing.
Livestreaming video games has become incredibly popular in the last 5 years and children and young people enjoy learning new skills to improve their own gameplay.
With any online activity, there are always risks to children and young people, but by following our key advice, you can encourage the safe use of Facebook Gaming.

Do you receive our Safeguarding Alerts?
Receive regular updates to help you safeguard children in a digital era.
Sign Up