Last Updated on 27th September 2023
Safeguarding Alert
Our online safety experts have been alerted to a potentially viral TikTok trend. The trend focuses on people recording "reaction videos" while searching for a term that brings them to a specific type of illegal, sexual online content.  
From what our experts have discovered, the explicit material found in this trend is NOT hosted on TikTok. 
What is a Reaction Video?
Put simply, a reaction video is a recording of a person or group of people reacting to something they are watching online or offline. This can be reacting to anything from an episode of a hit television show to highly anticipated film trailers to popular YouTube videos. Channels on YouTube such as "REACT" expanded the concept into 'YouTuber Reacts', 'Kids React', 'Parents React' and 'Grandparents React'. In 2013, the concept of reaction videos was adapted into the TV Channel 4 show Gogglebox. 
Why Do People Watch Reaction Videos?
The responses of those watching the videos stimulates curiosity. That curiosity combined with the fear of missing out prompts others to participate especially when the reactions they have seen are funny or shocking.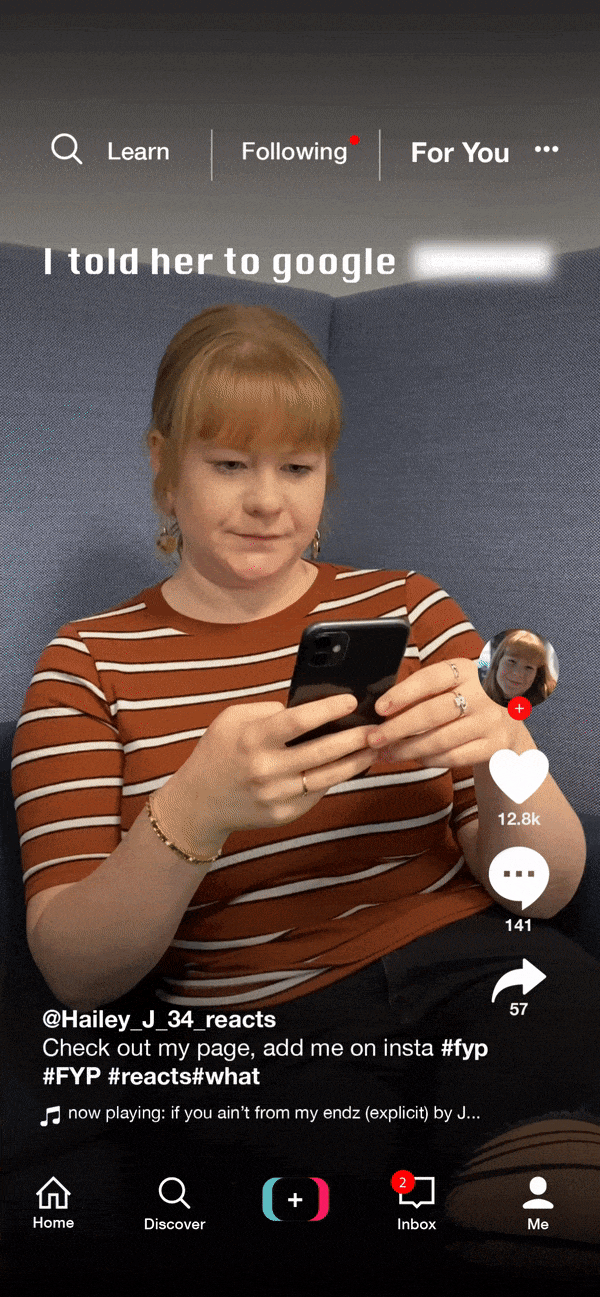 Helpful Advice & Guidance
Ensure Google SafeSearch is enabled on your child's devices. It will help filter out any explicit material from initial searches and protect them. Learn how to do this by using our helpful guidance and easy-to-follow steps on Our Safety Centre.

Peer pressure can impact young people's behaviour, as they may feel intense pressure to participate in online viral trends and challenges. Make sure you talk about examples of what positive social media use looks like and how they can recognise peer pressure.

Use our 

Trusted Adult Resources

 to teach young people about the importance of seeking help if something worries or upsets them.

Talk to the children and young people in your care about how they can block and report content or behaviour that upsets or worries them. Use our 

Online Safety Centre

 to learn how to enable privacy and safety settings together.

Read our

Harmful Content

article for tips on how to talk to and support the child in your care.

Encourage open, honest, and non-judgmental conversations into your everyday routine. Explain to the children in your care that they can ask you questions about anything they come across or are unsure of online.

Parents, carers, and safeguarding professionals often talk about the support they receive from other adults on addressing online harms to children. Make sure you share this article to support your friends and colleagues.

Children can use the 

Childline Toolbox

if they are feeling anxious, scared, or stressed. It has breathing exercises, videos, games, and activities to help children let go of stress.
Join our Safeguarding Hub Newsletter Network
Members of our network receive weekly updates on the trends, risks and threats to children and young people online.
Sign Up