Last Updated on 19th May 2023
Tyla: Hello and welcome to Safeguarding Soundbites…
Natalie: – the podcast for people who want to stay in the loop…
Tyla: – with the latest safeguarding scoops!
Natalie: I'm Natalie.
Tyla: And I'm Tyla!
Natalie: So, what are we talking about today, Tyla?
Tyla: In today's episode we're going to be covering social media news, how an amendment to the Online Safety Bill could help protect women and girls from online abuse and violence, Prime Energy drinks, and more.
Natalie: Sounds good, let's get started with our social media news.
Tyla: Yep, so there's been a few things happening this week, with both TikTok and WhatsApp announcing new features, so we'll take a look at those first.
As part of the US Mental Health Awareness Month, TikTok have added a new mental health awareness hub to the platform. The hub is a collection of information, resources, and signposting where users can find videos from mental health and wellness creators on TikTok, links to mental health organisations and inspiring, educational videos.
Natalie: Well, that sounds positive! And much needed, I think, on social media sites. How do users find it?
Tyla: Yes, all too often we're hearing of new research and stories highlighting the negative impact of social media platforms like TikTok on mental health, particularly for young users. So, to find the hub, users to go the 'mentalhealthawareness' hashtag page and click the link in the description.
Natalie: So #MentalHealthAwareness?
Tyla: Yep, then click the link in the description. And the hub is part of a range of initiatives that TikTok are launching – they are also donating two million dollars in ad credits to a range of mental health organisations, like the National Eating Disorder Association and the American Foundation for Suicide Prevention. Plus, they're running training sessions with partners – their sponsored creators, essentially – on how to share information on mental health with their followers.
Natalie: Definitely a step in the right direction, it's brilliant to see platforms taking action.
Tyla: It really is. And the other major app update is from WhatsApp who have announced a new feature called 'Chat Lock' that they say will help protect user's "most intimate conversations".
Natalie: Right, okay, so what does that mean, exactly, how does it work?
Tyla: So, users will be able to move chat threads out of the normal inbox section and put them into a new folder that can only be accessed via password or biometrics, like a fingerprint. As well as having this password protection, the content of messages in notifications will also be automatically hidden.
Natalie: Are we thinking this is going to have any ramifications? Safeguarding wise?
Tyla: Well, there are potentially some issues there – the fact that the chats are hidden in the first place plus that notifications don't show the chat…if a young person is trying to hide their conversation with someone, that's going to help them do that.
Natalie: And they could be hiding their chat from their parents or carers for any number of reasons – for example, because they're sending youth produced sexual imagery to someone, because they're hiding bullying or any sort of harmful content that's been sent to them.
Tyla: Also, they might be pressured into using this feature to conceal a conversation, with a predator or abuser. I think the key thing is that parents, carers and anyone else in a safeguarding position is aware of this feature, of what it looks like on the app.
Natalie: Yes, because otherwise, if someone isn't aware that the feature exists, then there's no way of knowing there's potentially hidden chats. And once again, it's about communication – one of the key safeguarding measures anyone can take. It's important to have that conversation with the young person in your care around secrets, and what to do if some is pressuring you, such as talking to the trusted adults in your life.
Tyla: That's exactly right. Whether it's on WhatsApp, on another platform or offline.
Tyla: Concerns have been raised about the energy drink Prime after a primary school pupil in Wales was reportedly hospitalised for a cardiac episode after drinking Prime Energy. The energy drink was launched last year by social media influencers Logan Paul and KSI and has become extremely popular, with shops constantly selling out, leading to a sort of "black market" of people selling the drink for inflated prices.
Natalie: It's important to note here that there are actually two different version of Prime, is that right?
Tyla: Yes, there is Prime Energy. This version contains 140mg of caffeine per can – an average cup of coffee contains around 80 mg.
Natalie: That's a very high amount of caffeine.
Tyla: Which is why Prime Energy comes with a warning that it is not suitable for anyone under 18-years-old or pregnant people. The other version of Prime, Prime Hydration, contains no caffeine and is a general-purpose electrolyte rich sports drink.
Natalie: So that's the safer option in terms of health for young people if they wish to drink Prime?
Tyla: Absolutely. And speaking of young people's health, our listeners might remember that last week we talked about vaping, in particular social media advertising about vapes. Well, new figures released by the anti-smoking charity ASH have shown that a third of under 18-year-olds have seen vape promotion advertised online.
Natalie: And that includes advertising by influencers on social media?
Tyla: It does. It includes influencers who are being sponsored to post clips of themselves unboxing vapes and then trying them out on video. We spoke about the dangers of this last week but for anyone who missed it, you can go back and listen to last week's episode or find our article on vaping on our website ineqe.com.
Natalie: Okay, moving on now to other news, and it's the Online Safety Bill once more!
Tyla: This seems to be a weekly segment for us, Natalie!
Natalie: It does! The bill is going through the House of Lords at the minute and this part of the process usually has lots of amendments and additions, as after this stage the bill goes forward to the very final stage and then gets passed as law. So, it's likely to be a topic for us quite frequently from now until then!
Yesterday a new amendment was proposed that would require social media firms to prevent online abuse and violence against women and girls. If companies don't remove misogynistic content or ban repeat offenders, then – like in other failings covered by the bill – they would potentially be fined, and the bosses could even be jailed if the breaches occur again and again, if the amendment comes into effect.
Tyla: So, as it stands, there's nothing in the Online Safety Bill about that already?
Natalie: Nothing specific, although in response, a government spokesperson has said that the bill already covers certain online content that disproportionately targets women and girls, like sex and cyberstalking. But this amendment, called the Violence Against Women and Girls Code of Practice, will make sure that it is explicitly covered.
Tyla: Great, okay, other news now and new figures have shown that one in 10 Scottish schools have ended the last academic year with a financial deficit. That deficit in overspending is believed to be over 5.7 million, at least. Many schools across the UK are undergoing major funding pressures. E.I.S., Scotland's largest teaching union says they have been raising concerns about the under-funding of Scottish education for many years.
Natalie: In England and Wales, the NSPCC has warned that children and young people who have suffered sexual or domestic abuse are not getting the necessary help due to a gap in support from local authorities. The charity's own research showed that less than one-quarter of local authorities provide independent and specially trained advisors – something the NSPCC says children who suffer sexual or domestic abuse desperately need.
Tyla: And that's something the NSPCC and many more hope will be addressed in the new Victims and Prisoners Bill?
Natalie: Yes, the NSPCC are asking the government to focus the bill's attention towards ensuring all young victims of abuse are offered specialist support when they need it.
Tyla: Well, let's hope that whatever happens with the bill, that all victims can access the support needed.
Natalie: Yes, absolutely.
Tyla: Okay, we are approaching the end of today's Safeguarding Soundbites, Natalie…do you know what that means?
Natalie: It's time for our Safeguarding Success Story of the Week?
Tyla: It is! And this week, we have some really great news, as children in England have been ranked fourth in the world for reading!
Natalie: Oh wow!
Tyla: That's what I said, too! The Progress in International Reading Literacy Study looks at children's reading skills in nearly 60 countries. Nine- and 10-year-olds in England ranked fourth, after coming joint 8th place during the last assessment.
Natalie: Brilliant! And I believe pupils in Northern Ireland and Ireland were in the top five, too?
Tyla: Yes, they were! Northern Ireland was in fifth place and Ireland came in second.
Natalie: Fantastic – I loved reading as a child and it's great to know that children today are clearly enjoying it too. Okay, that's all from us this week. We'll be back again next week with more safeguarding news and updates.
Tyla: In the meantime, don't forget to sign up to our safeguarding hub at ineqe.com to stay up to date and you can follow us on social media by searching for Ineqe Safeguarding Group. Until next time…
Both: Thanks for listening and stay safe!
Join our Online Safeguarding Hub Newsletter Network
Members of our network receive weekly updates on the trends, risks and threats to children and young people online.
Sign Up
Pause, Think
and Plan
Guidance on how to talk to the children in your care about online risks.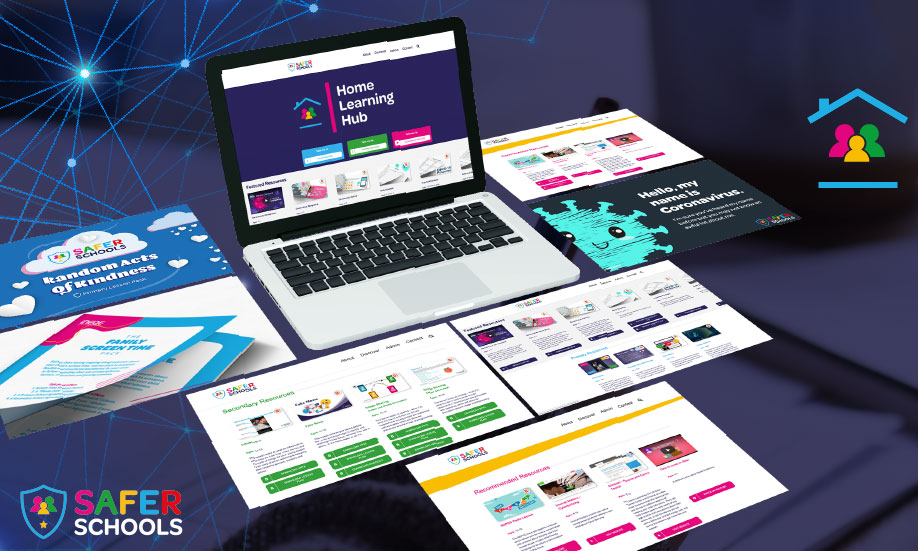 Visit the Home Learning Hub!
The Home Learning Hub is our free library of resources to support parents and carers who are taking the time to help their children be safer online.