Last Updated on 5th April 2023
Hello and welcome to Safeguarding Soundbites – I'm Tyla, and I'm Colin, and this is the podcast that keeps you up to date with the latest in safeguarding news. This week, we'll be telling you about our latest article that will help get the whole family outdoors this Easter break and much more. So, let's get into it!
In social media news, the TikTok ban continues as Northern Ireland, Greater London and Scotland join nations around the world in banning the app from being used on employee phones. The move comes after concerns about security on the video sharing platform that might leave sensitive data vulnerable. Many have questioned how the Chinese-owned company gathers and stores data and how it tracks users.
Speaking to ITV, our CEO Jim Gamble said TikTok "will capture your facial mapping, it will capture your fingerprint, it will capture voice recognition, so it is capturing that modern identity that doesn't really change."
The app has already been banned by lawmakers in the European Union, the United States, Denmark, and Canada, and on government employee devices in New Zealand, France, the Netherlands and Norway. TikTok has denied sharing its data with the Chinese government.
The EU police force have warned about the potential misuse of ChatGPT. Europol said the AI chatbot could be used to create disinformation, in phishing attempts and for cybercrime. ChatGPT's ability to create realistic-sounding text in great quantity and at great speed, means criminals could use it for harmful purposes. The chatbot has seen an explosion in popularity since its release last year, with reports that it took TikTok nine months and Instagram 2.5 years to reach a similar audience to ChatGPT's. While many praise the AI tech for its abilities, there are increasing concerns about its misuse. Many are also worried about its impact on education, with schools and universities continuing to ban the use of AI. Our Online Safeguarding Experts looked at the safeguarding concerns around ChatGPT and other AI chatbots to gather information on what you can do to help keep young people safer should they use this kind of technology, as well as encouraging them to use AI for good. You can find our Online Safety Article and our downloadable Shareable resource by visiting our online safety section on our website at ineqe.com. These are great tools to help safeguarding professionals, parents, and carers discuss this important topic with the children and young people in their care.
Ofcom have released their latest media use and attitudes report. The report looks at how children and young people aged 3-17 use and understand media, and their attitudes towards media such as TV, gaming and the internet. The new report found that over half of those surveyed use TikTok and 46% are on Snapchat, with 17% of three- and four-year-olds using Snapchat despite the 13+ age rating, as reported by the parents and carers of the children in the survey.
The survey revealed that almost three in ten children aged eight to 17 have experienced someone being nasty or harmful to them via apps and platforms, compared to only two in ten having experienced this face-to-face. Parents surveyed said they're more worried about their child seeing age-inappropriate or adult content and felt overall that the risks of their child using social media outweigh the benefits.
Another story in the news, n ew figures from the NHS reveal that hundreds of children are being treated for gaming disorders. The National Centre for Gaming Disorders has received over 740 referrals since it opened in 2019. Now classified as an official disease by The World Health Organization, the NHS centre has revealed it has seen cases of addiction that have led to the breakdown of family relationships and even violence.
The disorder is defined as a pattern of gaming behaviours characterised by impaired control of gaming, giving priority to gaming over daily activities despite negative consequences.
The NHS recommends children and young people spend no more than two hours per day in front of screens but increasingly we're seeing young people's social lives intertwined with gaming time, with the latest Ofcom report showing that nine in 10 children aged 3 to 17 are playing video games. So how do you know when gaming has become a medical issue?
Signs of a gaming disorder to look out for in young people include a change in behaviour which results in significant impairment to a young person's day-to-day functioning, for example, choosing gaming over socialising or previously enjoyed activities, lying about how much time is being spent on gaming as well as feeling irritable when they can't play, or being unable to focus in school are all symptoms of the disorder. They may continue their gaming behaviours despite negative consequences. However, this behaviour pattern would have to occur for at least 12 months in order to be recognised as an official disorder, so it doesn't apply to every young gamer out there!
Even if you don't believe the child or young person in your care has harmful gaming habits, it's always good to get outdoors and away from screens together. That's why this Easter we're encouraging you to use tech for good – and for adventure! Not all apps involve staring at screens. In fact, in our latest article we're looking at apps that actively encourage families to look up and around. Our five apps for getting outdoors will get you spending this Easter break doing everything from stargazing in the garden to becoming a local bird expert! All of the apps can be used for free so head over to our website ineqe.com to find out more.
And in our new feature, safeguarding success of the week, the Gymnastics Ethics Foundation have issued new safeguarding standards which will protect athletes from abuse and harassment. The framework, called Gymnasts 2028, aims to support and protect survivors and whistle-blowers, create safeguarding partnerships with other organisations and provide guidance on athlete and child rights.
The foundation was formed in 2019 after the conviction of former gymnastics doctor Larry Nassar for the sexual abuse of young female athletes. The new framework will be implemented as part of the run up to the Paris 2024 and Los Angeles 2028 editions of the Olympic Games.
That's everything from me this week. We're taking a break next week so join us in two weeks' time to catch up on all the latest news. But in the meantime, you can still keep up with us on social media at INEQE Safeguarding Group. We'd love for you to share this podcast with friends, family and colleagues. Have a lovely Easter, whatever you're up to and we'll catch up soon. Bye.
Join our Online Safeguarding Hub Newsletter Network
Members of our network receive weekly updates on the trends, risks and threats to children and young people online.
Sign Up
Pause, Think
and Plan
Guidance on how to talk to the children in your care about online risks.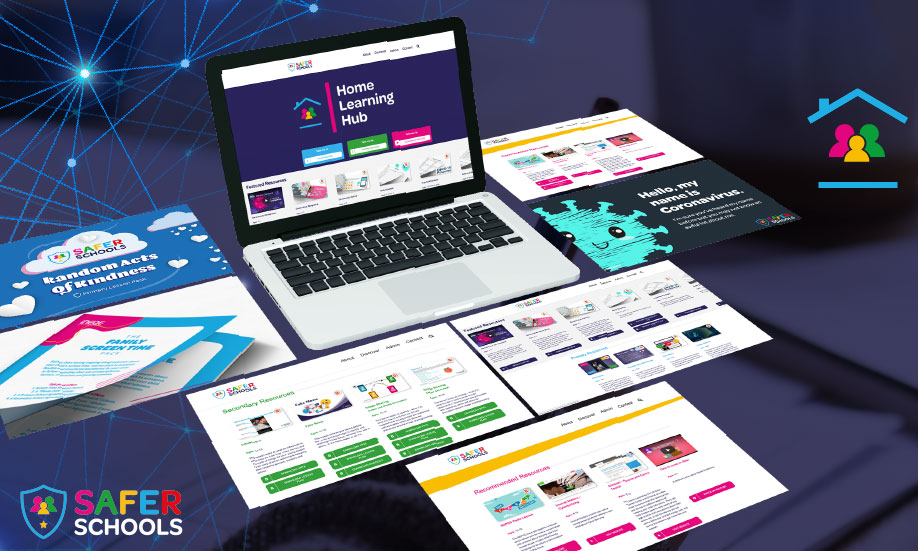 Visit the Home Learning Hub!
The Home Learning Hub is our free library of resources to support parents and carers who are taking the time to help their children be safer online.